---
Home - Chicago - Banking - Buying a House - Churches - Family Programs - Govt. Offices - Insurance - Hospitals - Jobs - Mail -
Moving Tips - Radio - Renting - School - Shopping - TV - Transportation - Utilities - Links
---
Welcome
Welcome to Chicago! This web site was made to help the Serbian population either from Serbia & Montenegro or United States or anywhere else to find their dreams in Chicago. Many of us were uncertain where we should settle after the wars in our homeland and many have heard many stories from all over the world. You might hear it is good in Sweden or United Kingdom or United States, well now you will be able to get a true perspective on at least one home of Diaspora, Chicago!
Our people have been coming to Chicago ever since its early founding. In fact of our 4 million people Diaspora around 300,000 live in Chicago and around 25% of them all are found in the American Midwest and Toronto area. There are many Serbian people in Chicago (in fact biggest population outside S&CG) and it is not uncommon to find someone whose family came here in migrations of 1907 and 1914 or after the World War 2. Therefore if it is Serbian culture that you seek, Chicago is the place to be.
Please feel free to explore the rest of the web site and I sincerely hope that this web site will help you with all your fears and questions about immigrating to Chicago.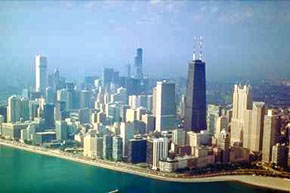 ---
© Copyright 2004. All rights reserved.
Contact Webmaster: Boris L.