---
Home - Chicago - Banking - Buying a House - Churches - Family Programs - Govt. Offices - Insurance - Hospitals - Jobs - Mail -
Moving Tips - Radio - Renting - School - Shopping - TV - Transportation - Utilities - Links
---
Chicago
A short history and information on Chicago: Chicago, city and seat of Cook County, located in northeastern Illinois, on the southwestern shore of Lake Michigan, at the mouth of the Chicago River. Chicago is the third largest city in the United States and one of the country's leading industrial, commercial, transportation, and financial centers.

Downtown Chicago Flowing westward from Lake Michigan, the Chicago River winds through downtown Chicago. Skyscrapers rise along its banks.

Chicago covers a land area of 588.2 sq km (227.1 sq mi) and extends 47 km (29 mi) along Lake Michigan. It occupies flatland traversed by two short rivers: the Chicago River, which flows west from the lake through the downtown area, where it forks into a North Branch and a South Branch; and the Calumet River, in the south, which connects with the small Lake Calumet. Both rivers are linked by canals with the Illinois and Mississippi rivers, establishing Chicago as the connecting point in the waterway between the Mississippi Valley and the Great Lakes-St. Lawrence Seaway. The city's rapid growth was due in large part to its location, with ready access to markets and raw materials.
After a population decline since the 1950s, the population of Chicago increased from 2,783,726 in 1990 to 2,896,016 in 2000. According to the 2000 census, whites constitute 42 percent of the city's population; blacks, 36.8 percent; Asians, 4.3 percent; Native Americans, 0.4 percent; and Native Hawaiians and other Pacific Islanders, 0.1 percent. People of mixed heritage or not reporting ethnicity were 16.5 percent of inhabitants. Hispanics, who may be of any race, represent 26 percent of the city's population.

Chicago is the center of a large metropolitan area spreading across three states, from Kenosha, Wisconsin, in the north to Gary, Indiana, in the southeast. The population of the consolidated metropolitan statistical area increased from 8,115,000 in 1980 to 8,240,000 in 1990. It reached 9,157,500 in 2000. The percentage of minorities is lower in the metropolitan area than in the city. Blacks account for only about one in five in the metropolitan region as a whole, and Hispanics represent approximately one in nine residents. While the proportion of Hispanics is growing in the metropolitan area, black presence has remained mostly unchanged.

Almost every ethnic group found in the United States is represented in Chicago. In 1990 more people claimed German ancestry in Chicago than any other ancestry, followed by Polish and Irish. Almost 45 percent of the more than 450,000 foreign-born people now living in Chicago entered the United States between 1980 and 1990. Spanish and Polish are the two most common languages spoken at home other than English.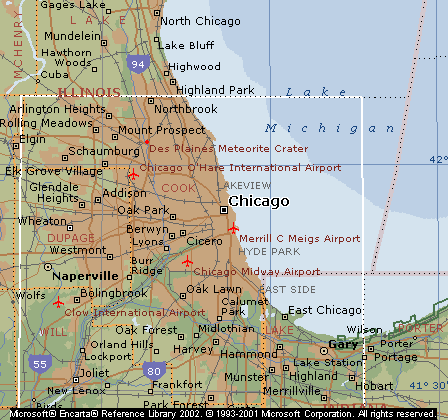 ---
© Copyright 2004. All rights reserved.
Contact Webmaster: Boris L.